NANUK 908 PLASTIC HARD CASE
---
| | |
| --- | --- |
| Case Brand | Nanuk |
| Case Model | 908 |
| Interior Size | 9.5x7.5x7.5 (in) |
| Interior Size | 242x191x191 (mm) |
| Exterior Size | 12.5x9.8x8 (in) |
| Exterior Size | 318x249x204 (mm) |
| Weight (Empty) | 3.61 lb | 1.64 Kg |
| Case Material | Lightweight NK-7 Resin |
| Case with Wheels | NO |
| Waterproof (IPX7), dustproof (IP6X) | YES |
| Manufacture Warranty | Lifetime |
Logo list
Free Shipping
USA and Canada
SMART FINANCE
0% Interest Rate
Free Return
Buy with Confidence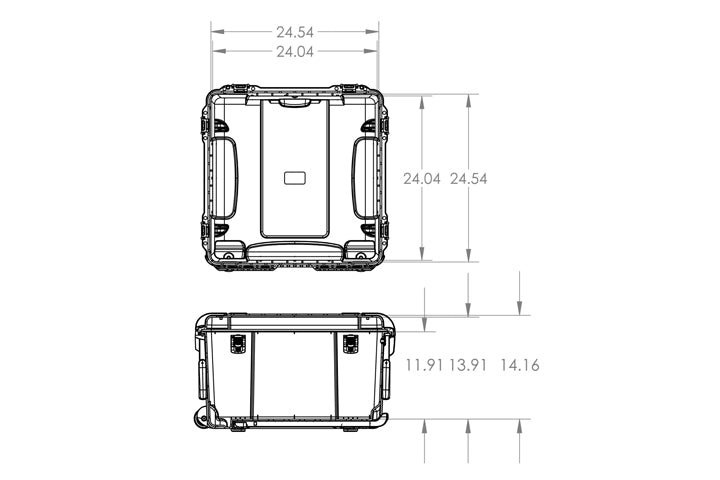 NANUK
NANUK 908 PLASTIC HARD CASE
NANUK 908 Waterproof Case: Streamlined Organization, Unparalleled Defense
Streamlined Organization with Unrivaled Defense
Masterfully engineered for safeguarding, arranging, and transporting medium-sized objects, the NANUK 908 waterproof hard case stands out. Its invulnerable and robust construction, coupled with a deep base for expanded storage solutions, promises exceptional security. The light resin casing and dual PowerClaw latch system deliver unmatched resistance against potential hazards.
Smooth Transportation
Experience effortless conveyance with the protective NANUK 908 case, outfitted with a soft, ergonomic handle for comfortable, trouble-free handling.
Advanced Safety Features
The NANUK 908 is furnished with stainless steel fixtures and an integrated handle stay, ensuring the handle is kept safe during journeys and shipments. This secures your gear from damage at all times.
Customization Convenience and Water-resistant Seal
Boasting an automatic pressure release valve and an integrated bezel system, the NANUK 908 permits simple customization without the need for drilling. This ensures a waterproof seal even when customized, guaranteeing your equipment's safety.
Reliable Lock and Latch System
Owing to NANUK's exclusive locking and latching system, your case remains firmly shut until you decide to open it. Your gear is effectively safeguarded against accidental exposure or unauthorized tampering.
Adaptable Defense for Diverse Gear
Being waterproof, dustproof, and virtually unbreakable, the NANUK 908 is ideal for a range of items including camera/video gear, batteries, lenses, flash drives, microphones, pistols, fishing equipment, binoculars, scopes, medical devices, and more. It provides top-tier defense for small to mid-sized personal or professional equipment.
Lifetime Warranty Assurance
With the NANUK 908 MIL-Spec injection-molded case, gain confidence from the backing of a lifetime warranty. Whether you select cubed foam, custom foam, padded dividers, or an empty case, its durability and dependability are guaranteed.
Choose the NANUK 908 Waterproof Case for streamlined organization and unparalleled defense. Protect your gear with confidence, knowing you're backed by industry-leading protection.