NANUK 904 PLASTIC HARD CASE
---
| | |
| --- | --- |
| Case Brand | Nanuk |
| Case Model | 904 |
| Interior Size | 8.4x6x3.7 (in) |
| Interior Size | 214x153x94 (mm) |
| Exterior Size | 10.2x7.9x4.5 (in) |
| Exterior Size | 260x201x115 (mm) |
| Weight (Empty) | 1.63 lb | 0.74 Kg |
| Case Material | Lightweight NK-7 Resin |
| Case with Wheels | NO |
| Waterproof (IPX7), dustproof (IP6X) | YES |
| Manufacture Warranty | Lifetime |
Logo list
Free Shipping
USA and Canada
SMART FINANCE
0% Interest Rate
Free Return
Buy with Confidence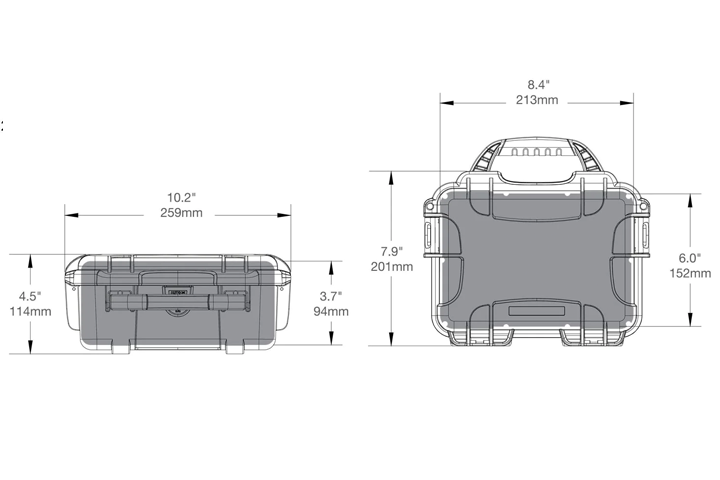 NANUK
NANUK 904 PLASTIC HARD CASE
NANUK 904 Waterproof Case: Durable, Secure, and Versatile
Unmatched Durability and Security
The NANUK 904 waterproof hard case is built to efficiently organize, protect, and transport your essential smaller gear. Its lightweight resin shell and double-side-mounted PowerClaw latching system ensure impenetrability and indestructibility.
Effortless Transportation
Enjoy easy and comfortable transportation with the NANUK 904 protective case. Its soft grip and ergonomic handle make carrying a breeze, while stainless steel hardware and an integrated handle stay to keep your gear safe during travel and shipping.
Locking System for Maximum Security
Thanks to NANUK's exclusive locking and latching system, your case stays securely shut until you're ready to open it. Say goodbye to accidental openings and unauthorized access, knowing your gear is protected at all times.
Versatile Protection for Various Equipment
The NANUK 904 is waterproof, dustproof, and virtually indestructible, making it perfect for batteries, lenses, smartphones, cameras, medical devices, and more. Whatever equipment you need to safeguard, this case has you covered.
Convenient Customization Options
Equipped with an automatic pressure release valve and integrated bezel system, the NANUK 904 allows for customization without drilling holes, maintaining its watertight seal. Personalize your case while ensuring optimal protection.
Backed by a Lifetime Warranty
The NANUK 904 MIL-Spec injection-molded case is supported by a lifetime warranty, ensuring its quality and reliability. Choose between cubed foam, custom foam, or an empty case to suit your needs.
Choose the NANUK 904 Waterproof Case for unbeatable durability, security, and versatility. Organize and protect your gear confidently, knowing it's shielded by the best.